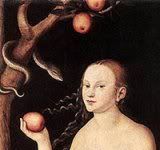 Hooray!
After millenia of feeling bad about Eve, woman can rejoice -- thanks to us, we are fully human.


From an interview by Humanist Network News, the day after the premiere of The Golden Compass.
Philip Pullman:
My interest as a storyteller has always been in human nature, and its relation to the world we find ourselves in. ... The tendency of the story is to celebrate what makes us human, including, very much including, the intellectual curiosity which has been so deplored by generations of Jewish and Christian religious people, because it is what makes for the Fall in the third chapter of the Book of Genesis.

Eve was tempted by the serpent not by greed or lust or money but by curiosity. "You will eat the fruit," said the serpent, "and you will grow wise." That was what tempted Eve. I think we should put up statues to Eve, we should celebrate Eve, we should have a National Eve Day, because that act of curiosity was the first thing that led us a way from being the pets of god so to speak, the little creatures who were allowed to run about and have fun in his beautiful garden, and become fully autonomous human beings. Of course this is a myth, something that isn't literally true, but it's psychologically true.

I'd see this as being the central human myth which is what I was writing about in my novel. It's also been written about in Paradise Lost by John Milton and a story that will be told many times again...

Because it's about how we become human, how we become fully ourselves, fully conscious -- how we move away from the old idea that everything that exists does so because of a god or gods.
Curiosity and a sense of humor have always been tops on my list of what makes a desirable human being. In my later years I have added kindness.